Buying your first home is a significant investment. However, being a first-time home buyers can be an exciting and overwhelmingly intimidating experience at the same time. Fortunately, there are programs available to help first-time home buyers ease the process. These programs help you with various important factors such as home buyer tax credit, housing affordability, closing costs, and low-interest loans and provide down payment assistance too.
Some also provide education and counseling to help new buyers make informed decisions.
If you are a first-time home buyer, it's important to research these programs to make your home-buying process more convenient. So, let's jump on to understand more about them.
What Are First Time Home Buyers Programs?
In line with its name, First-time home buyer programs aim to simplify and make the home-buying process more appropriate for those who are first-time home buyers. To help make home ownership more feasible, first-time home buyer programs provide financial assistance, low-interest loans, and several other benefits.
In the U.S., there are many programs geared specifically towards helping first-time home buyers get into their first home sooner and at a more affordable price. Prospective homebuyers should weigh all of their possibilities before settling down on a particular program.
It is also suggested that in the case of mortgages, the one that best fits both your short- and long-term financial objectives can be the most prominent choice for you.
The programs typically come in the form of a loan, down payment assistance, or closing cost assistance.
Sounds interesting? Let's dig deeper to understand more about these programs.
Who Can Qualify for it?
In simple terms, first-time home buyers are generally those who have not owned a property in any capacity for the past three years.
Thus, even if you've owned a property previously, you might still be eligible for some first-time home buyer programs if at least three years have passed since your last ownership.
However, according to the U.S. Department of Housing and Urban Development (HUD), you can qualify as a first-time home buyer if:
You have been three years without owning a primary residence. If you've owned a home before but your spouse hasn't, you can still buy a property as first-time homebuyers together.
If you're a single parent, you may have co-owned a house with a former spouse while married.
As a displaced homemaker, you may have shared a house with a partner.
If you've only owned your primary residence, it may not be legally required to be permanently anchored to a foundation.
A person who only has a home that does not adhere to local, state, or model building codes and that could not be brought into compliance for less than the cost of constructing a permanent structure.
Qualifying Requirements For First-time Home Buyers Programs
The factors to be considered as the requirement for qualifying first-time home buyers programs can vary. However, there are some common yet important ones that you can consider:
Income limit
Credit score
The minimum down payment
Debt-to-income ratio,
Credit history, and so on.
Types Of First-time Home Buyer Programs
We have listed below the types of first-time home buyer programs available that you should know about: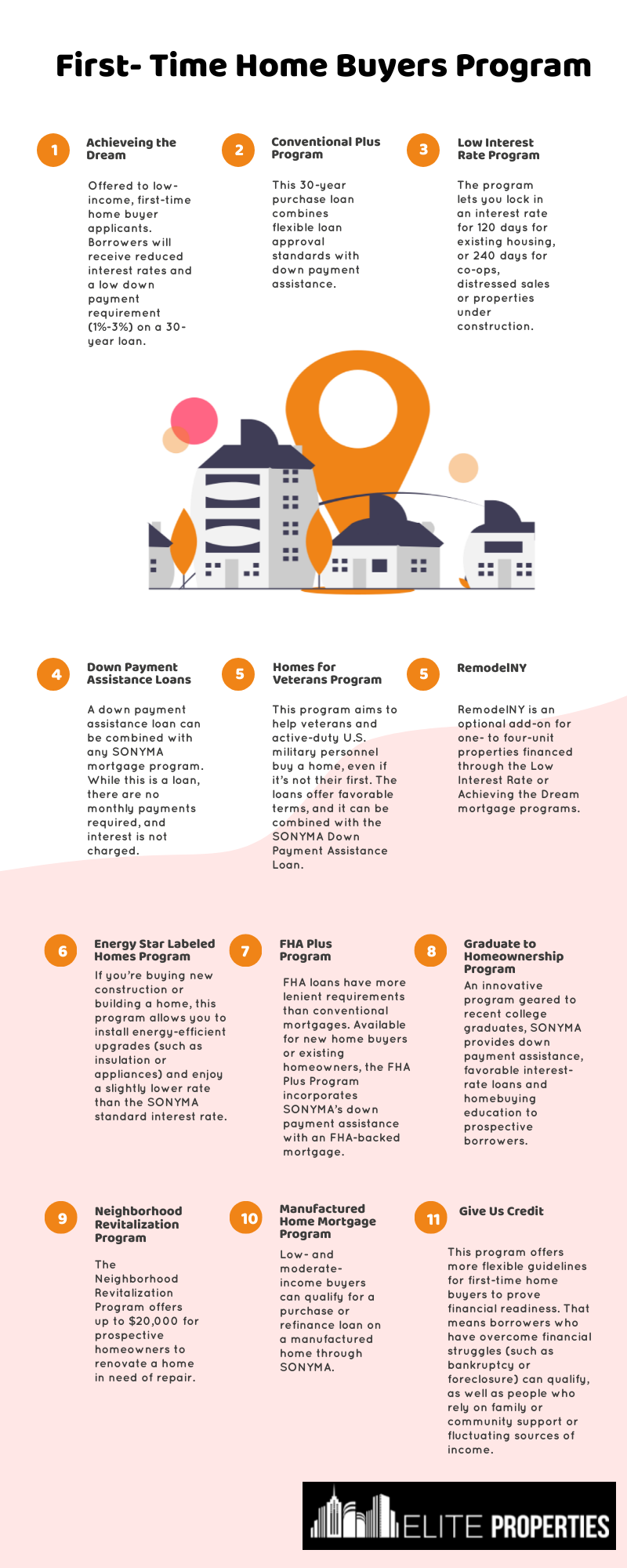 Down Payment Assistance Programs
Down payment assistance programs are grants or low- to no-interest loans that are available to first-time buyers. You can use these programs to meet down payment requirements for buying a home, either through a loan or a grant. The particular assistance program for which you are eligible may have an impact on whether you have to repay the funds.
Government-backed Loans
You may be able to purchase a home with a modest down payment or even with bad credit if you use government-backed loans. Considering the government is covering the loans, government-backed loans are less risky for lenders. These loans include FHA loans, VA loans, and USDA loans.

Federal Housing Administration support FHA loans and offer low down payment options and more flexible credit requirements.
VA loans are available to eligible veterans and offer no down payment requirement.
USDA (United States Department of Agriculture) loans are zero-down-payment loans designed for low-to-moderate-income borrowers in eligible rural or suburban areas.

Closing Cost Assistance
Costs associated with the closing of the home-buying process are the closing costs. Closing cost assistance programs can help cover these costs for first-time home buyers.
Tax Deductions
Such programs for first-time home buyers provide incentives to lower your tax liability. Allowing you to keep more of your earnings while buying your first home.
Home Buyer Education
If you're unsure about where to begin your home search, you can benefit from online home buyer education programs and other resources. You can learn about financing possibilities, the home-buying process, and how to submit a mortgage application in a fair first-time home buyer class. This class may be free or inexpensive.
Other Programs
Other first-time home buyers programs include:

State and local programs: State and local government agencies offered these program to first-time home buyers to benefit from low-interest loans, grants, or tax credits.
Federal programs: Anyone who is a citizen or legal resident of the U.S. is eligible for these programs. While not everyone qualifies for every program, receiving federal assistance does not require you to live in a specific state.
Non-profit programs: These programs offer financial and educational resources to first-time buyers who have an income of low to moderate level.
The Final Say
There are various first-time home buyer programs available depending on your location and financial status.
Most first-time home buyer programs may have restrictions regarding the validity of the program. So, it's essential not to wait until the last minute to apply. With proper planning and research this is possible. Taking advantage of a best-suited first-time home buyer program could make your dream home a reality.
Need more in-depth details? Get in touch!