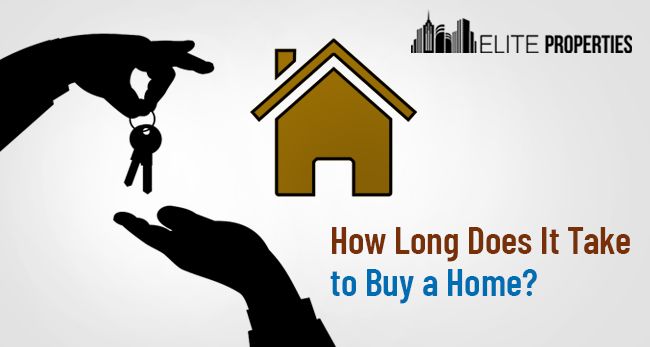 For the majority of people, home-purchasing is the biggest purchase. A detailed and attentive approach will suit you well when it comes to purchasing real estate where you're going to devote a major portion of your time.
Once beneath contract, the classic timeline is nearly 40-50 days to close on a home. Let's bear in mind the steps taking up to that point—house hunting, pre-approval, and application process. Whether it's your very first home, a renovation from a starter home to something bigger, or scaling back after several years, you shouldn't hurry the process.
Here are the Six Steps with an approximate number of days to complete them:
Look for an agent (7 days)
 The majority of us are in touch with a friend, family member or colleague who newly purchased a home. Enquire from those trusted sources, and in nearly a week you should be in a position to contact a trustworthy agent. You're in search of someone you like, have faith in and who has a well-informed hold on the available inventory in your preferred community. A good agent should assist you in avoiding a bad purchase and see you through the ifs and buts of sealing the deal.
Acquire Pre-Approval (8-10 days)
Loan pre-approval is needed and will let you know if you are qualified for a mortgage. You'll need documents comprising tax returns, paystubs, debt and credit information, and if you're purchasing with the other half or partner, you'll both require these things. You can also check with several lenders to check for the ideal rates. At the time of the pre-approval process, there's a 14-day window during which credit bureaus consider credit inquires as a single one since you're purchasing a home.
House-Hunt (80-85 days)
 Many people regard real estate as an obsession and like to look at real estate trends in several areas around the country comprising what homes are selling for, and how much home you can avail for your dollar, but when you're truly in the market to buy, house-hunting isn't always the most amusing.
You may be hassled, stressed to confront, or require to make the purchase well within time to relocate your family or get the kids stable before school begins. A study conducted by Insight Media established it takes nearly 81 days surfing homes prior to finding one to buy. And a major chunk of people view roughly 16 homes online before finding one they desire. The average time required to search prior to scheduling a visit? Twenty hours.
As per the study, 14% of individuals said they had to find the middle ground on some feature of their dream home. And in the present seller's market where homes in various areas of the country get many offers over the inquiring price or have a bidding war, a quarter of home buyers or more may involve an unsuccessful offer delaying their home search.
Put Forth an Offer (5 days)
You've finally found the house and now all you are required to do is put forth an offer. Your agent will clarify everything you need to be aware of but essentially, you and the agent agree on the price you're proposing, you'll want the standard 1% earnest money. And above, in a tight seller's market, you may want to knock that up to 3-6% to show you're playing for keeps. You could also contain a personalized letter to the owner telling them how much you love the home and why you're interested in their house.
Get a Mortgage (21 days)
Your offer is accepted! Now the mortgage procedure begins. Although the lender you have chosen can lock in your interest rate, you're about to cross more hurdles and collect more documents such as current bank statements and work stubs for the concluding mortgage documents. Lenders will also need an appraisal and inspection and go through the extensive list of final expenses and estimate yours.
This process can include anywhere up to a few weeks in which you can communicate with your lender via email or phone every couple of days with a new request. You'll have to cope up your inspection and appraisal reports and in case there are any issues with either, you may be required to renegotiate the price, organize for repairs or negotiate with the seller on any work that needs to be done. There will be a title search to ensure the home is free and clear of liens, and you'll be likely to select homeowner's insurance and offer the lender all the data. Your insurer might even need a pre-inspection prior to insuring you. There's a lot of effort to be put in these weeks as your mortgage is prepared.
Close on the House (50 days)
You should have a concluding walk either on the day of closing or the day before to ensure repairs are over and nothing's been damaged. Your lender has probably told you how you must pay closing costs-- whether to bring along a cashier's check or how you'll make a digital transfer of the money. You'll also require a photo ID and a nice pen for the whole bunch of documents you'll be signing. At last, the keys are handed over to you and congratulations are in place. You've bought a home.
Which step of the home-buying process is the most lengthy?
Hunting for your dream home is probably what takes the most time. Scheduling, setting a budget and determining on what things you'll compromise on in advance can help make the process smoother.
What facts should you take into consideration while house hunting?
While every situation is distinct, one of the key things people look for is a good site. You may desire that the property be located conveniently for work or school, or possibly you simply prefer a definite area. Other facts many people find useful to note are curb appeal, the size and layout of the home, the number of beds and baths and the placement of windows for natural light.
What are the few red flags to take note of when house shopping?
Try to figure out big cracks in driveway, foundation, or walls. The home shouldn't feel moist inside or have a stuffy odor. Look for cracked paint on window frames. Don't be deceived by staging furniture or baking smells.
Bottom Line
Home purchasing can be complicated and stressful. The better equipped you are for each step, the better your odds are of arriving to a good home. So what are you waiting for? Gather your documents, and choose a realtor and insurance provider and begin your home purchasing journey. Make sure to study real estate trends in your area. Additionally, refer experts from Elite Properties who can assist you in making the right decision. We are a cash buying company that suggests we provide fast closings. Call us at 718-977-5462 today.