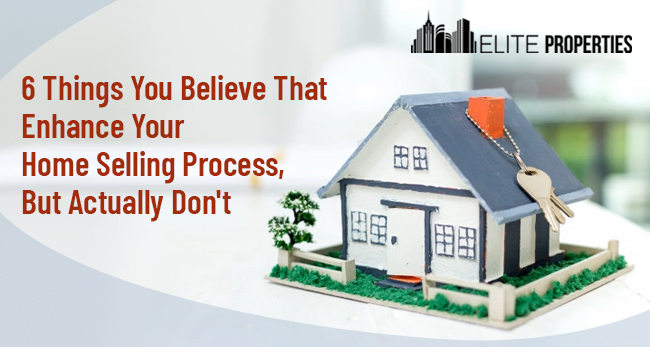 Are you on your move to the home selling process? If yes, you may be enticed to go beyond updates and improvements. You may want to fetch the peak price across the table. Some improvements add value to your home that includes substituting your garage door or carrying out a slight kitchen remodeling. Although, others offer hardly any opportunity to pull through the expenses when it's a stint to sell. So, here are 6 things you believe that enhance your home selling process, but actually, don't.
1. Swimming Pool
A big swimming pool may sound like a dream, but it's a costly affair. It could be one that may not offer any monetary return. In specific cases, a pool might add value to your home, but it may not essentially make it cost-worthy. Sources state a pool can enhance your home's value by up to 7%, but only if -
You are living in an upmarket neighborhood where pools are the protocol
The elegance of the pool suits the neighborhood
You are living in a hot climate where you can make use of the pool around the year
The pool doesn't cover up the complete yard and you still have room for sports or gardening
The pool is in good condition
You can appeal to the exact buyer—for example, families with small children may be worried about security issues, but elder grownups or individuals without kids may adore the idea of a pool
Else, think of a pool as an outlay in your lifestyle, but don't imagine it to be an investment in your home.
2. Overbuilding for the sake of Neighborhood
At a certain point in time, you may require more room but don't wish to undergo the trouble of moving. Possibly you want an additional bedroom for your budding family or an office back home. Certain enhancements may involuntarily make your home stretch beyond the norm for the neighborhood. A huge, affluent remodel may let the home become more enticing. For instance, opting for a second story with an additional bedroom and a full bath. It won't enhance the resale value in case the remaining neighborhood homes have small, one-story homes.
3. Unreliable High-End Renovations
Improvements should be constant all over the home. Stainless steel gadgets in your kitchen or imported tiles in the entryway will hardly do anything to raise the value of your home. If the bathrooms still have vinyl floors and the carpet is an old shag it won't justify the home's worth. Remodeling may not fetch a higher return except the rest of the home matches up to the same level. High-quality advancements usually raise the value of high-end homes, but not essentially in mid-range houses where the improvement may be uneven with the rest of the home.
4. Unseen Improvements
Unseen improvements are expensive developments that you envision to make your house a superior place to live in. But having said that not one person else will recognize or likely take care of it. You might require a brand new plumbing system. Yet, don't imagine recuperating the costs when it's time to sell. The majority of home buyers assume these systems to be in upright working condition. They will not shell out even an extra penny, simply because you recently mounted a new heater. It is a better option to consider these improvements as part and parcel of regular maintenance if you want to sell your house fast. Don't count them as an investment in your home's value.
5. Wall-to-wall Floor covering
Real estate listings may suggest new carpeting all over as a selling point although homebuyers may flinch at the idea of having floor covering. Most of the people are moving away from carpeting as the chemicals are needed to process it. Not to state its potential for catching allergens—a grave concern for people with children.
6. An Extended Owner's Suite
A brand new owner's suite with a lavish bathroom and walk-in wardrobe can be a big USP that escalates your home's value. But said that it does not essentially is the case if the remodel turns your prim and proper three-bedroom home into a stuffy two-bedroom home.
Bottom Line
If you're planning for home improvement, it's beneficial to boil down and understand if an upgrade is something that you will cherish, or if you're just putting in the effort to increase your home's value. If a swimming pool is something you would make use of and relish for several years, you may be capable of justifying the cost, even if you don't recover your hard-earned money. Conversely, if you consider spending thousands of dollars just to remodel and hike your home's sale price, you'd better rest assured that your money is well spent.
When dubious about the home selling process, equate features of equivalent homes in your neighborhood. Make sure to study real estate trends in your area. Additionally, refer experts from Elite Properties who can assist you in making the right decision. We are a cash buying company that suggests we provide fast closings. Call us at 718-977-5462 today to sell your house fast for cash.