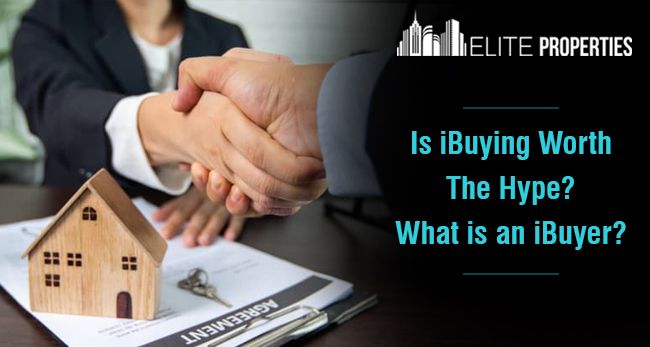 The facade of real estate has changed with time and new age processes like virtual tours, virtual staging, advertising online, etc, are pulling the limelight. With the moving age of the internet selling and buying is as easy as a click. The dynamics of business are constantly evolving whether it's real estate or groceries. People prefer convenient alternatives rather than the traditional home selling process. Nowadays, people are attracted to iBuying, don't know what is it? Scroll through our blog, 'Is iBuying Worth The Hype? What is an iBuyer?' to know more about the topic.
What Is An iBuyer?
To put it in simple words, an iBuyer is a company with ample finances that makes an offer on your behalf based on algorithms. The term "iBuyer" is a fusion of words where I denotes 'instant' combined with the word 'buyer'. The company makes all the trade and makes the whole process convenient for both buyers and sellers. iBuyers try to sell your house with a profit margin and give you cash in return once sold.
The iBuyers buy your house as-is which means selling your house without spending a ton of money. It enables a buyer to avoid the extra upfront costs that incur while closing. Additionally, it avoids the need for real estate agents or brokers.
How Does An iBuying Model Work?
As given above iBuyers use algorithms to determine the ideal price of a home, which are based on comps (comparables). The iBuyers provide instant offers to sellers in as few as 24 hours once you fill-out the requisites in the form. A potential seller will have to go to the iBuying website and fill out a form, post which they receive an offer. For instance, if the seller accepts the offer then the sale is likely to close in just a few weeks.
How do iBuyers make profits?
iBuyers usually buy a property with a discount as-is. They add value to the property by making minor improvements to optimize the selling price post which they list on MLS. Additionally, iBuyers provide an in-house financing service to customers which help in earning good profits. A service charge typically ranges to 5% (can be higher or lower, relies on the tenure of selling your house)
Pros And Cons Of Selling Your Home To An iBuyer
iBuying is a great way to close deals fast, although it comes with a set of pros and cons. Some of them are given below.
Pros of iBuying
Capable of fast closings (as less as a couple of weeks)
Avoid the hassles of legal verification, inspection, or appraisals
Does not require walkthroughs
Avoid paying the upfronts costs while closing deals
Cons of iBuying
May require some amount as a listing fee, which is usually higher than a real estate commission
Currently, only a few iBuying companies are active and providing services
Less selling prices, usually below the fair market value
In most iBuying models the house may have to satisfy the ideal house criteria
Is iBuying Really Worth It?
Whatever method you use to sell your house whether it's a traditional home sale or iBuying,  will have some advantages and disadvantages. It is all about what suits you best. Although, if you choose to sell through an iBuyer, make sure to do your due diligence. Besides, it is equally important to go through all the fine prints and policies including the other costs and fees if any.
Conclusion
If you are someone who wants to sell your house fast and don't have enough time to wait? You can get in touch with Elite Properties. We buy houses for cash online New York and offer you enticing deals over your as-is property. Furthermore, if you wish to learn more about a house sale then call us at 718-977-5462, we'll be happy to help.