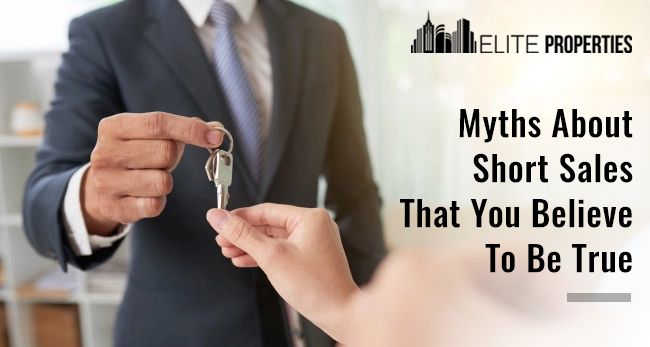 Short sales get a bad reputation due to several myths and misconceptions surrounding them. For every horror story describing a nightmare short sale, you'll also discover success stories.
Here are the top five misconceptions about a short sale:
1. Sales Require 12 to 18 Months For Closure:
The fastest you will be able to close any short sale listings is at least 14 days. But even then, some buyers were able to step into another buyer's position after that buyer walked away before short sale approval and closed the deal within 28 days.
Here, we present the time frame for an average short sale. Especially when the loan is held by a cooperative bank. Seven to ten days for the lender to grant receipt of the complete short sale package, which entails personal seller documents and related real estate items, together with the buyer's short-sale offer.
a. A negotiator is assigned. An additional 30 to 45 days is required for a BPO or appraisal.
b. Extra two to three weeks for management/review by investor and short sale approval. Every short sale is exclusive, and every set of investors is diverse. The bank which is examining the loan might not essentially own the loan, and thus the bank must survey the investor guidelines. You cannot point finger at some short sale bank and name it a bad short sale bank just because that would be unreasonable, much as you might hate that specific bank at a specific time.
2. Short Sale Buyers Pay Quite Huge Amounts:
In specific metropolitan areas listing agents may price a short sale under market value knowingly. It's a trick short-sale agents use to allure many offers. After all, a price listed on a short sale is made-up. Because you won't recognize how much a bank will accept till the proposal is submitted. But several banks will reflect a price at least 90 percent of market value. Some banks scrap short sales because the deals are unreasonable.
3. Short Sale Banks Won't Agree A Extremely Discounted Payoff:
 Sellers are often amazed to realize that in markets where prices have dropped over five years, a home might be valued at 50% or less of its original value when the seller bought it. Banks know declining markets.
 Moreover, banks will carry out their research about the value and sum up a conclusion. The home value is just not based on the amount of the mortgage. It's based on the present comparable sales too. These facts suggest that a bank will accept market value because if the home went via foreclosure and then back on the market, it would still sell for market value.
4. Short Sale Sellers Must Be In Default before the Bank Approving A Short Sale:
Banks favor a short sale grounded on the seller's hardship and value of the home. Some sellers may put in efforts to make the monthly mortgage payment yet have not tumbled behind in their payments.
 While it is a fact that, true that sellers in default receive instant attention, a seller can also pay a mortgage payment on time every month and still be suitable for a short sale. An added benefit, for being current on the mortgage is a seller may succeed under Fannie Mae guidelines to immediately buy another home.
5. Agents Get A Lower Commission: 
In the initial days of the short sale boom, at the time of the year between 2005 to 2008, banks were handling short-sale commissions awfully, time and again reducing the agent's commission to peanuts.
The majority of banks now pay an old-fashioned commission to agents. On top of this, the Federal National Mortgage Association, commonly known as Fannie Mae, established a compensation policy on February 24, 2009, to pay the sum of the commission agreed to between the listing agent and the seller, providing the fee does not surpass 6%. The Home Affordable Foreclosure Alternatives (HAFA) program is for borrowers who, although eligible for the government Home Affordable Modification Program (HAMP), are not in a position to secure a permanent loan modification or cannot avoid foreclosure. This fee structure holds for HAFA short sales as well.
Additionally, refer experts from Elite Properties who can assist you in making the right decision. We are a cash buying company that suggests we provide fast closings. Call us at 718-977-5462 today.