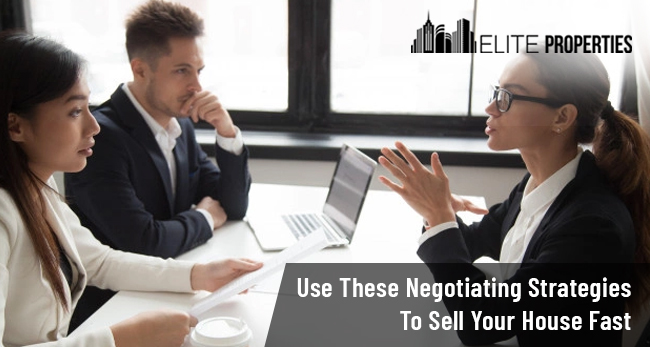 Need to sell your house fast, but don't know how to negotiate the prices? This is an obstacle every homeowner faces while thinking about selling their homes. As it's one of the biggest financial transactions you'll need to think about various points before actually selling it. Several factors come into play while you work on pricing your home. Factors like commissions, closing costs, etc. make up for the final price hence, you may want to consider negotiating. You can use these negotiating strategies to sell your house fast.
Oppose at Your List Price
As a seller, you will never accept an offer that's less than the asking price. Potential buyers usually look for a back-and-forth negotiation that ultimately results in settling for a lower price. In this case, the seller usually makes a counteroffer that's a little higher, but still below the listing price. The seller counteroffers because they fear losing a potential buyer. Applying this strategy will surely help you close the deal. As this is a possible way to sell your house fast it won't give you maximum profits.
Here, instead of dropping the price, you can stick to your listing price. If there's a buyer who really wants to purchase the house then they will come back with a higher price. Although, the buyer will only come back if you've set a fair price for your house.
Repudiate the Offer
If you consider yourself bold enough you can try another negotiating tactic that is rejecting the offer. Rejecting means you won't be able to make a counteroffer at all. If you want the buyers to still be in the game you can ask them to submit a new offer. If they still want the house and you haven't put them off, they might come up with a new offer. This strategy will require you to be strong on your verdict. Also, you must be able to justify the property's worth.
When you reject an offer you are not legally barred from a negotiation with a particular buyer. You can accept a higher offer if it comes along. When a buyer knows there can be another buyer with a better offer it automatically creates pressure to resubmit quickly. Furthermore, this strategy only works if your home has been on the market for a short duration or if you have an open house.
Add an Expiration Date on Your Counteroffer
Let's say a buyer submits an offer that you don't want to accept and you counter their offer. If this happens, you'd be in terms of negotiation with that particular buyer. In this case, it's unethical to accept a better offer from another buyer although it's not illegal. It is possible for you to be a part of multiple negotiations with multiple buyers. Eventually, it's the seller's prerogative to disclose or not to disclose information to the prospects.
A seller can legally counter more than one offer but they must include suitable language considering the situation. With a will of selling your house fast, you may want to put an expiration date on the counteroffers. Also, be considerate of the deadlines, since a short duration may result in a turn-off for the buyer. If the default expiration is four days you can shorten it by three days.
While you have an outstanding counteroffer, your home is off the market. Most of the buyers won't submit an offer if the other one is on negotiating terms. Here, if the deal falls through, you'll be adding more days to your home sitting on the market. If your home exceeds a certain amount of time it becomes less desirable to buyers. So, adding an expiration date to your counteroffer will push buyers to make a faster decision.
Accept to Pay the Closing Costs
Nowadays, it has become a practice for sellers to ask for closing costs. The closing cost can anywhere be up to 3% of the buying price. While paying the closing costs buyers usually feel cash-strapped. Paying moving expenses, down payment, improvement costs and even closings can make a hole in their pocket. Sometimes buyers can't afford to pay the additional closing cost without assistance.
When a buyer submits an offer and asks the seller to pay the closing costs, you can counter it by asking for a higher purchase price. This can also translate into asking for a higher price than the initial purchase price. Usually, buyers fail to realize when they ask sellers to pay the closing cost they're actually lowering the home's worth. The catch is, if you increase the asking price post paying the buyer's closing cost you'll still end up with a good amount.
Bottom Line
The way to successfully execute these negotiation strategies is to have an excellent product that justifies its price. Your home must be in a spotless condition whereas you must be able to make fast decisions. If you want to sell your house as-is and want to avoid negotiations then get in touch with Elite Properties. We are a cash buying company that means we offer fast closings and a no-obligation offer. Call us at 718-977-5462 today to sell your house fast for cash.