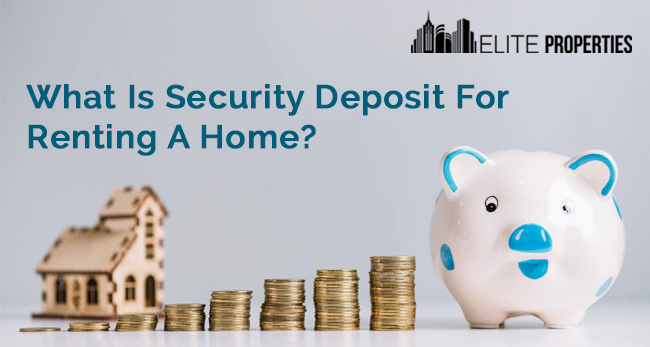 A security deposit is a sum of money paid to guarantee the use of a piece of property. The phrase is most commonly associated with leasing or renting an apartment, although it can also refer to other situations where a security deposit is necessary.
Security deposits, often known as "damage deposits," are either refundable or nonrefundable, which means you may or may not be able to recover your money. It's helpful to understand when and why you might be requested to pay a security deposit before handing it up.
Security Deposit Definition And Examples
A security deposit, in its broadest sense, is money you pay to someone else as part of a contract to utilize their property or services. When it comes to rental properties, a more specific security deposit term is employed.
A security deposit is described by the American Bar Association as "money to safeguard the landlord in the event the tenant damages the property or fails to pay rent." Before you move into an apartment that you rent or lease, the landlord may request a security deposit.
This can be limited to one to two months' rent depending on where you reside and local landlord-tenant legislation.
Security deposits provide landlords with financial security if you happen to break your lease, are evicted, or cause damage to the property.
The landlord can keep your deposit if your lease contract permits it to pay any financial losses or damage they suffer as a result of your activities.
How A Security Deposit Works
Before access to property or services is granted, a security deposit is normally required. If you're moving into a new apartment, for example, the security deposit may need to be paid in full when you sign the lease.
Security deposits for rental agreements are usually protected by state and/or municipal landlord-tenant legislation. These laws can dictate:
How much a landlord is allowed to charge for a security deposit?
When security deposits must be paid?
Where this money must be held?
When a security deposit can be returned and how long it must be returned?
When does a landlord have the right to hold a tenant's security deposit?
If you leave discolored carpets or damaged fixtures behind when you move out of an apartment, your landlord may be permitted to keep some or all of your security deposit to cover cleaning and repairs.
If you violate your lease and leave early, you may lose your deposit, which will be used to cover any remaining rent payments.
Landlord-tenant regulations may also outline what options you have as a renter for reclaiming your security deposit. If you suspect your landlord is unjustly withholding your deposit, you may be eligible to bring a civil complaint in small claims court.
Is A Security Deposit Required?
When you rent an apartment or another place to reside, the landlord will almost always require a security deposit. If you don't have the funds to pay a significant deposit upfront, you might be able to negotiate an alternate deal.
You might be allowed to split the deposit over the first three months of your lease term, for example.
Key Takeaways
Security deposits are payments made in advance as part of a contract to get access to property or services.
When renting a property, security deposits are typically specified in the lease agreement, which is then governed by landlord-tenant legislation.
Depending on the conditions of your agreement with a service provider or landlord, security deposits may be refundable or non-refundable.
If you believe your security deposit is being withheld unfairly, you may be entitled to sue in civil court to have it returned.
Additionally, refer experts from Elite Properties who can assist you in making the right decision. We are a cash buying company that suggests we provide fast closings. Call us at 718-977-5462 today.