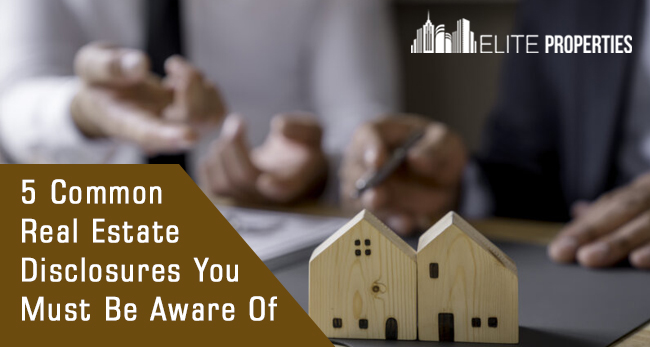 As far as residential real estate is considered, sellers of homes with certain problems or flaws may hear a piece of advice from their friends or family that they must simply "put a coat of paint on it" or "that's the succeeding owner's problem."
What the majority of sellers fail to realize is that they are usually required to disclose specific information to prospective buyers. These disclosures are meant to inform potential buyers of any hitches with the property that might have an impact on its value or use. "Buyer beware" only holds as far as certain issues are considered.
Now, we are aware that selling a house can be exhausting, and we are here to make the process as stress-free as possible. This is why we wanted to ensure that homeowners recognize common disclosures that could have an impact on the sale of their homes. We've put together certain information that will update you on the realities as a seller.
Disclosure Basics
The necessities for real estate disclosures vary centered on state law. Some states lean severely towards buyer protection and command multiple pages of disclosures, while other states adopt a buyer-beware approach. All disclosures should be made in black and white, despite whether or not your state provides a specific form to use. In nearly all the states, sellers are obligated to give latent buyers the property disclosures before or at the time of execution of the purchase agreement.
Why Disclose?
Real estate disclosures are intended to offer assistance to protect all parties involved in a sale. Homebuyers, of course, need to be aware of what exactly they're getting themselves into with a specific property. 
Sellers are secure by disclosures in two main ways. First of all, disclosures lessen the chance of buyers backing out at the last minute. Secondly, properly following disclosure law safeguards sellers lawfully. In certain states, buyers can sue years after the sale if the seller did not reveal something that should have been disclosed according to state or federal law. But, disclosures can bring some very grave issues to light and decrease the number of latent buyers who will want to deal with the disclosed issues.
Let's get right to the most common ones now.
5 Common Real estate Disclosures
If you're rolling up your sleeves to sell a property, you must be aware of these 5 common disclosures. Not all of them hold in every state, so ensure your own state's rules.
Lead:

If the house you're about to sell was built before 1978, you're needed to disclose the existence of any acknowledged lead paint or lead paint hazards (like contaminated soil or dust). Sellers should also provide buyers with any records they have involving lead on the property, a lead warning statement, and a pamphlet created by the U.S. Environmental Protection Agency (EPA). This is the only federally instructed real estate

Water Damage:

Water damage caused due to leaks and floods can result in health problems by creating mold and can compromise the structure of the house. This damage is not always apparent while the sale particularly if the sale is not taking place at the time of the rainy season. Many states necessitate sellers to disclose leaks and water damage.

Legal Issues: 

Maximum states also call for sellers to reveal any legal issues with the property. These issues could comprise the existence of property liens, building code desecrations, easements on the property, or boundary line disputes with the neighbors. Essentially, if it would have an impact on the potential new property owners, it must be disclosed.

Structural And Mechanical Issues:

In some cases, any known difficulties with major systems or appliances must be disclosed. This would accommodate issues with the plumbing, electrical systems, heating and air conditioning, or structure of the home. Some states have a very precise form to fill out concerning the condition of each household system, while other states just need you to inform the potential buyer about any key problems.

Neighborhood Annoyances: 

Many states involve you to inform potential buyers about neighborhood nuisances. This can be something like late-night parties, invasive odors, or violent dogs that are allowed to run loose. Anything that would have an impact on buyers' enjoyment of the home and neighborhood should be disclosed.
 Consequences Of Disclosing
Disclosing properly is the way to go. But what will ensue after you disclose? Mostly, buyers will oversee smaller issues if they like the house, mainly in a hot market.
When it comes to greater issues, the buyer may ask you to fix something before the property changes hands, or they may ask you to take some money off the purchase price. If you and the buyer can't agree, the buyer may walk away compelling you to begin the entire process all over again.
When In Doubt, Disclose
As we stated, required disclosures fluctuate by state. If you're not certain whether something should be disclosed, it's best to err on the side of cautiousness and disclose it. In addition to the liability benefits, disclosing meticulously helps buyers know that they can trust you as the seller sufficient to go through with the deal. And of course, it's just the right thing to do! Referring to a real estate attorney can help ensure you're doing everything appropriately.
Avoid The Trouble By Selling To Elite Properties
If you'd like not to worry about disclosures and how buyers will respond, there's an easier solution.
At Elite Properties, we buy homes as-is and offer you a fair cash offer. We pride ourselves on providing a trouble-free selling process that aids you in moving out quickly, without any of the hassles of fixing or selling your house. Call us at 718-977-5462 today.