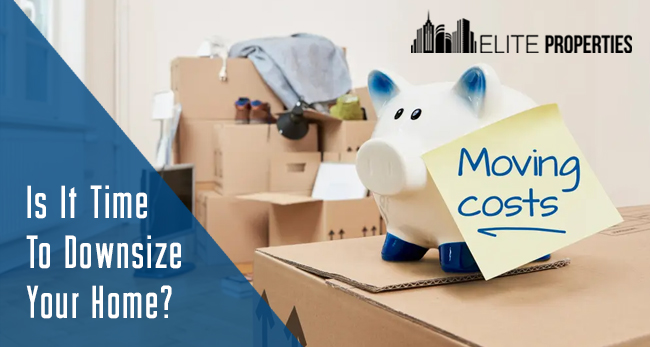 Choosing the right time to downsize your home can be difficult. We're often emotional when it comes to our homes, and it can be tough to move on from a home that's been associated with us. So how do you decide that it's truly time to move on?
As real estate experts, we buy houses, and the team here at Elite Properties has assisted thousands of people to stand by this decision.
And here's what we are aware of: If one of the five situations below applies to you, it could be the appropriate time to downsize.
Situation 1# Your finances have changed.
If your income has outdone your expenses, downsizing can aid you in getting back to a sustainable financial situation. You may have moved from two incomes to one, or your hours at work have been slashed. Maybe your taxes and utilities have escalated. When we buy houses, we often realize these are the reasons from our clients.
Whatsoever the reason for your current financial status, be aware that a smaller house usually costs less to maintain. And in case you're already having concerns paying the mortgage, ensure you're aware of all your options!
Situation 2# Your household has changed.
This can occur for many reasons—a few positive and a few negative. If your kids are college-goers, if you've undergone a divorce, if you've lost a near and dear family member—all these family changes will probably impact how much of your home you're actively using. If you have additional rooms that never get touched, a three-car garage when you own one car, or a huge kitchen when you only cook for one or two people, it might be time to downsize.
Situation 3# You're traveling quite a bit.
Are you among those lucky retirees who are spending most of their time traveling? Or does your job keep you on the get set go mode? Because we buy houses, we have worked with several clients that have government or military jobs that keep them away from home for longer periods. Downsizing might seem appropriate to you. When you save money on home costs—mortgage, taxes, utilities, and upkeep—you can put that extra money (and of course time!) towards your travel and other activities. Are you a snowbird who goes south for a good half a year or you're planning several different trips overseas for work or pleasure, there's no point in expending a lot on a home you hardly use?
Situation 4# You don't want the maintenance.
If you're having worry keeping up with the maintenance of a larger home, downsizing can be the right option for you. Or maybe it's just that your main concerns have changed and you value having free time at hand over having a bigger house. You don't wish to be mowing a big lawn or setting right faucet leaks when you could be reading or relaxing!
Whatever the reason could be, decreased capability or desire to spend time on home maintenance can be a great motive to downsize. As simple as that, your home should be a source of enjoyment, not exhaustion or frustration.
Situation 5# You'd like to age in place.
If you wish to stay independent as you grow older, it might seem logical to downsize and get yourself set up to age in place. Maintenance is one of the key factors, but it goes beyond that.
To age in place, you'll perhaps desire a single-level, accessible home. Whether or not you use any mobility aids at present, you'll want to make sure everything is accessible to a wheelchair or walker. You may need wider doorways, gadgets that are operable from sitting height, and grab bars in basic locations. Beyond doubt, these accommodations can be put in almost any house, but it's quite easier and less costly to make a smaller home accessible. We specialize in buying houses that our clients want to move from and settle in a more accessible home.
Elite Properties Homebuyers
If you've opted to downsize, we're ready to help.
We'll offer you a quick and fair cash offer for your present home just as it is now; no repairs, no inspection, no commissions or fees. You can even decide on your exact closing date to coordinate faultlessly with the purchase of your new, smaller home. Our team will walk you every step through your quote, including a review of what your home would likely bring on the open market.
Additionally, refer experts from Elite Properties who can assist you in making the right decision. We are a cash buying company that suggests we provide fast closings. Call us at 718-977-5462 today.