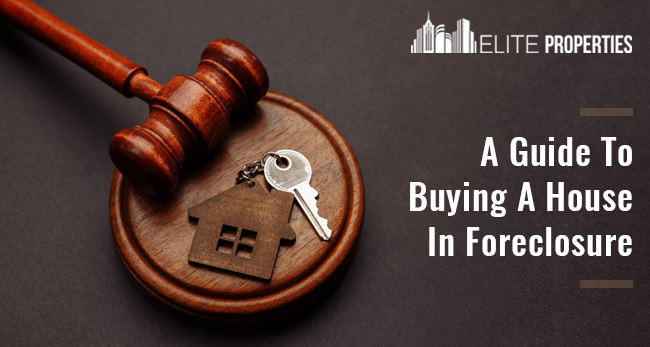 Buying a house in foreclosure may save you a lot of money, but it's not the only thing that these properties offer. Foreclosures can be an ideal option for investors who are looking to fix properties and sell them for better profits. Although, it's vital to know that foreclosures come with drawbacks. If you're considering buying a foreclosed property make sure to do thorough research. Scroll down to read our blog on 'A Guide to Buying a House in Foreclosure.'
Causes for a Foreclosure
There are multiple reasons why homeowners fall into foreclosure. One of the most common reasons for foreclosure is a job loss or unemployment. Other reasons why people fall behind mortgage payments include debts, marital issues, or illnesses. Also, homeowners during a foreclosure may fall into a low-to-moderate-income category that may cause trouble within the job.
Pros and Cons of Buying a Foreclosure
As everything has its pros and cons, buying a foreclosure home is not left behind. Below are some pros and cons to consider when it comes to buying a foreclosed property.
Pros of Buying A Foreclosure House
The most prominent pro of buying a foreclosure home is its price. As the homes are priced below their market value it can be an easy catch for investors or buyers. Furthermore, foreclosures can offer a ton of savings. Sourced from the balance, according to the real estate data aggregator ATTOM Data Solutions the worth of a foreclosed property over the past five years has ranged from $93,000 to $166,000. 
Comparatively, the average foreclosure process typically closes in 30 days as it's a quick process. Although, till October 2020 the process took an average amount of 54 days from start to finish.
A foreclosed property is a way to earn a good profit. Rehabilitating a house by doing a few adjustments can help in establishing a lot of value and gain immediate equity. If you're an investor who wants to flip the property for bigger returns then buying a foreclosure house is an ideal investment choice. With the right upgrades and improvements, you can gain a lot of value for an average home.
Cons of Buying A Foreclosure House
As a foreclosure property requires selling as-is, this often relates to that the property will need serious improvements. These houses need a lot of upgrades as the previous owner fails to maintain the house due to pricey repairs. Hence, if you are someone moving in a foreclosure property you will probably need to spend a lot of money on basic fixture improvements.
You May Not Get To View Or Inspect The House Before Buying The House
Foreclosure houses are sold on an as-is basis hence, there is hardly any chance for buyers to view the property. Additionally, you may not even get the chance to professionally inspect the property before submitting your bid. As these are some important points it can be a deal breaker for many potential buyers. Also, you don't have any access to the property before buying it. This means you can't enter the property, and only look at the exteriors that are the windows and walls.
Buying a foreclosure property comes with vying, there are several people looking to buy a property for cheap. The inventory can go out quickly as soon as the property is listed. Also, due to the pandemic where everything is online and people willingly avoid human interaction, the inventory goes out faster. The mortgage relief efforts during 2020 limited the amount of foreclosed homes hitting the market which created more competition.
May Require Huge Amount Of Cash
Keeping rehab costs aside, a buyer may require some upfront cash while buying a foreclosure home at an auction. Usually, at such events, buyers may have to bid in cash. Although, if you're not bidding at such events for a foreclosure property and have good credit you may still bag financing.  
Bottom Line
When you consider buying a house in foreclosure it can result in potential savings. Although, it surely comes with a bunch of risks to deal with. Furthermore, if you think the home selling process will take a toll on your head, you may sell your house for cash. You can get in touch with Elite Properties. We are a cash buying company helping people to buy or sell houses. We buy houses as-is and offer hard cash in return. Call us today at 718-977-5462 to know more.