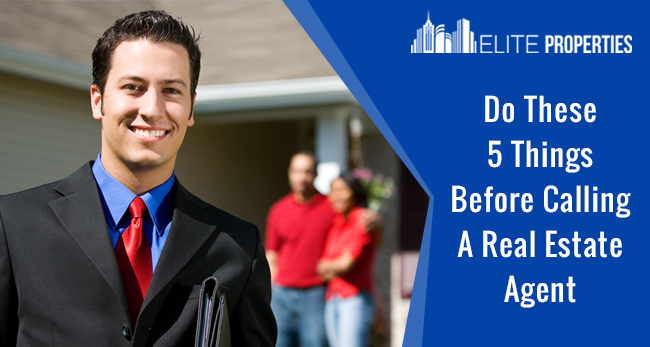 Before calling a Real Estate Agent there are a few things you may want to consider. Having financial documents will enable you to sell your house fast. Although, selling your house relies on multiple factors like the condition of your house and your financial situation. Make sure your first impression isn't a weak one as a poor appearance will draw potential buyers away. Hence, make sure to do these 5 things before calling a real estate agent.
Acquire Pre-Approved for a Mortgage
The first step before you contact a real estate agent is to look for available mortgage options. Several factors like price, interest rates, term, etc. decide the type of mortgage you may afford. Additionally, being pre-qualified for a mortgage is different from getting pre-approved. As both the processes involve evaluating income, assets and debts, only a pre-approval needs an official mortgage application.
Examine the Market
A pre-approved mortgage is the only component on which you can research potential houses in the specific price range. In case you're selling the house you will need to examine the market for homes that are similar to yours. Furthermore, when you research real estate ads both online and in print, you'll only know about the asking prices. Here, a real estate agent will tell you about how long the houses have been sitting in the market, their prices and closing costs. Keep in mind to not fall in love with any property yet. By the time you are ready to buy that property, it might have been already sold.
Declutter The Space
All home sellers by now know how important it is to showcase the potential space in your house. Although, it is also important to declutter your house before showing it to the real estate agent as well. Preparing your home for real estate agents before walkthroughs is vital as it helps them to see the full capacity of your property. This will make your property appear more attractive to buyers.
Keep Your House Spotless
A clean and tidy house shows how much you care and maintain it. Also, a clean home can result in a faster sale. Little things like sorting your mailbox, clean doormats, mowed lawn, clean windows and proper lighting are day-to-day chores. Doing them at once can work in favor of your home selling process. Furthermore, these things are highly noticeable by buyers so, it's best to do it beforehand than doing it later. Additionally, a clean bathroom is a factor that speaks a lot about the homeowner. Spotless shower cubicles, tubs and tiles are essential bathroom etiquettes that one must follow whether you're selling your house or not. 
Explore Potential Agents
Going with the first real estate agent that pops on the Google search can be a bad idea. Doing thorough research and finding an agent that suits your needs is ideal. Commence the search by asking for referrals from people who recently shifted to the neighborhood. You can also bounce on several online resources for the same.
You may have to look for a real estate agent with experience and who has a large contact base. Remember, real estate agents usually charge around 7% of the closing price on the sale, so make sure to do research beforehand.
Bottom Line
You may always feel a need to hire a real estate agent for selling or buying properties. If you are someone who cannot afford to pay the heavy prices of hiring one then, you can contact Elite Properties. We buy houses in any condition and provide a no-obligation offer. We buy houses as-is that means you naturally avoid the extra costs associated with home improvements. Call us today at 917-722-1272 to know more about a fair cash offer.