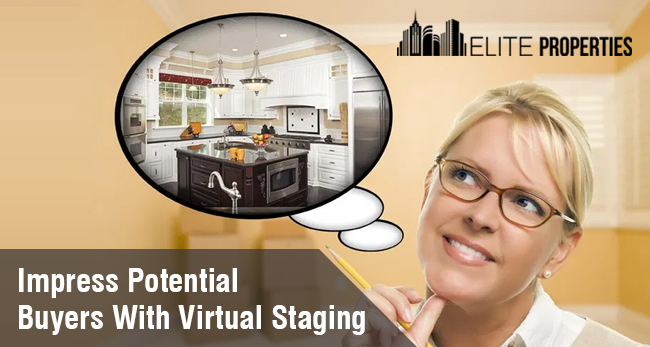 Staging is a way to market your property for better profits. What is Virtual Staging? Like traditional staging, virtual staging is an innovative marketing technique that showcases multiple features of your house. It is a method to entice prospects and convert them into buyers. If you are planning to sell your house, then you must try to impress potential buyers with virtual staging.
A virtual staging as the name says is done virtually with the help of computer software that shows various uses of spaces/rooms. It includes demonstrating the potential placement of the decor, furniture, accessories, appliances, etc., in high definition.
Ideal Spaces For Virtual Staging
To begin with, virtual staging is best suited in vacant properties. If your home is occupied with furniture and other stuff you might want to opt for a traditional staging. Although vacant homes, homes with obsolete furniture, and houses that have tenants are ideal spaces for virtual staging. 
When it comes to staging, virtual staging is a lot cheaper than a traditional one. A traditional staging will cost you several hundred dollars a month although, it is completely dependent on the stager you hire. Additionally, the prices may vary depending on the type and quantity of furniture you rent and the number of rooms that require staging. On the other hand, virtual staging may cost you anywhere from 39-199 dollars per room. Again, this is all reliant on the contractor, the number of rooms, the location, and the spaces that require staging.
Pros And Cons Of Virtual Staging
If done right virtual staging can be a great way to sell your house fast. You will need a professional stager and will have to work with a reputable company with a wide and fine portfolio of completed projects.
Pros of virtual staging -
Highlight's the best features of your room/house
Cost-efficient
Best way to entice buyers and sell properties online
Customizable to stage the number of rooms
Cons of virtual staging -
Can be a little expensive while removing furniture or other items from pictures
Can be difficult if the room is occupied unless you have vacant room pictures handy
The furniture and decor is not real and only exists in virtual space
Pros And Cons Of Traditional Staging
­A traditional staging doesn't always require a professional stager. Although, hiring a professional provides an eye for detail and creates a space that entices buyers. Besides, there are some pros and cons of traditional staging.
Pros of traditional staging -
Provides a real–life perspective while walkthroughs to buyers
Can make spaces appear larger and enable buyers to gauge the size of the space
Does not require a professional stager
Cons of traditional staging -
Can be on the expensive side
Extra upfront costs for furniture and decor
Can be an extra pile of work as the market can be uncertain in terms of selling your house
Virtual Staging Mistakes To Avoid
Hiring a virtual staging company that is not up to the mark can be a potential mistake. The virtually staged pictures must look so realistic that buyers fail to recognize it's computer-generated. 
Other mistakes most people make are -
Buyers tend to imagine things as they are shown virtually. It is vital to provide buyers with vacant and staged room images that offer a better perspective to their imagination.
The second mistake is staging the house for the worse instead of making it look appealing. Remember overdoing the furniture and decor will only make the room look chaotic and not pleasing.
Lastly, using virtual staging when it's not needed. If your property looks fine just by shifting furniture and changing the rugs then it is advisable to avoid virtual staging.
Is It Possible To Sell Your House With Virtual Staging?
Virtual staging can be a big asset while you sell your house. Although, there are some points you might want to touchdown before hiring a staging company. Avoid over or underdoing, creating a balanced look will do wonders. Virtual staging can help you sell your house fast, but if you want to avoid the hassles of hiring a stager you can sell your house as-is to Elite Properties NY. Call us today at 718-977-5462 and learn about how to sell your house for cash.