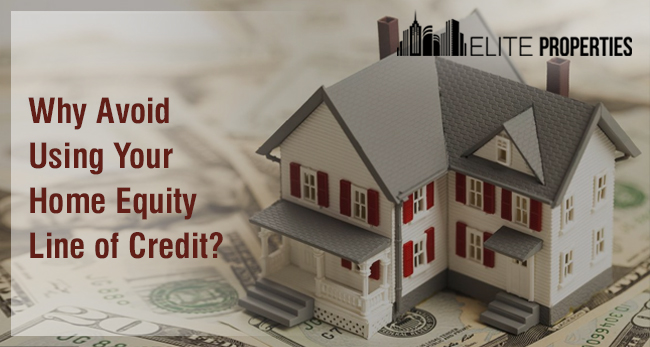 The biggest perk of being a homeowner is you can build home equity over the period of repayment. As you pay the mortgage your equity in a home increases simultaneously. Additionally, Home Equity Line Of Credit (HELOC) is a financial product enabling homeowners to borrow a chunk of that equity against their homes. If you are someone who is thinking of using HELOC apart from securing a second mortgage loan; read our blog about why avoid using your home equity line of credit? And make a decision later.
What Is Home Equity?
Home equity or also known as the real property value is the unencumbered interest of their property. It is the difference between your home's worth and the outstanding balance of all credits on the property.
Example - Your home's worth is $300,000 and you've paid $25,000 of the mortgage. Additionally, you've put down 20% ($60,000) which signifies you have $85000 equity in the home.
What Is A Home Equity Line Of Credit?
A HELOC (Home Equity Line Of Credit) is similar to a credit card. Although the limit is purely based on the equity you have in your home, most banks offer about 80% of your equity. HELOCs often have a lower interest rate in comparison to other loans and the interest may be tax-deductible. 
As HELOCs have a lot to offer, using them for leisure and entertainment can be an indicator that you are misusing the allowance. Even if the HELOC is cheaper than a credit card, it is still a debt that must be avoided for funding a luxurious lifestyle. Given are some of the activities you must avoid while using your home equity line of credit.
Paying For A Vacation
Adding to other activities, spending your home equity line of credit on a vacation can be a bad decision. HELOCs are a source of cheaper debt in comparison to other kinds of credits, people use them for sponsoring it for trips. Also, the HELOC offers interest rates below 6% whereas credit cards may be on the steeper end offering 14%-25% interest rates. When you borrow from the home equity you are only aggravating the issue, as you may be risking your home while using HELOCs.
Buying A Car
There was a time where HELOC rates were reasonably cheaper than auto loans. Eventually, the cheaper rates enticed people, enabling them to use HELOCs although it's not the case anymore. Furthermore, buying a vehicle or car, in this case, is a bad idea for many reasons. When you take an auto loan with a HELOC your loan is secured by the car you purchased. If your financial condition worsens you may end up losing the car. Additionally, if you're unable to make repayments you may also lose your house. Adding to the rest, an automobile is a depreciating asset.
Paying Off Credit Card Debt
When calculating your repayments paying off expensive debt with cheaper debt may make a lot of sense. However, in some cases, this debt transfer can skip the underlying issue, which is a lack/shortage of income or inadequacy to control spending. It is vital to understand what led you to create credit card debt in the first place. You can only pay a credit card debt if you have the discipline to pay the principal of the loan initially.
Paying For College Education
The primary reason for people using HELOCs as mentioned above is because it's cheaper than other credits. This makes it a big reason for using it for your child's college education, however, using HELOCs may put your house at risk. You may have to think twice before using the home equity line of credit as it may risk losing your house. Additionally, if the amount is significant and you're unable to pay the principal within 10 years. You may carry the added burden of mortgage debt into retirement.  
Investing In Real Estate
Should I invest in real estate with HELOCs? The ultimate answer to this question is that it's a risky proposition. There are many uncertain circumstances that may affect this decision. Reasons like sudden renovation, or a downturn in the real estate market, etc. can be a pitfall. Due to the same reason, many people have been trapped in debt, which makes repaying a tough task. 
Bottom Line
There are many other ways to fund your requisites apart from HELOCs may it be for education, getting a car, or planning a trip. It is best to avoid using the home equity line of credit and use your savings or other available credit options. Furthermore, if you want to sell your house fast you can get in touch with Elite Properties. We are a cash buying company offering fast closings and no-obligation offers. Call us today at 718-977-5462 to know more.