Are you moving to a new home? Or simply wish to make profits from the property in which you have invested? You can then rent your home.
Well, if yes, we completely understand the debate you are having in your head about whether to rent or sell your home.
The choice for anyone depends on various factors such as financial situation, market conditions, costs, and so on. So, what would be the most appropriate decision for you?
Both renting and selling the home have their pros and cons. You need to figure out what suits best for you as per all the conditions and factors around you.
So, let's understand some of these factors that will help you decide if you should rent your home instead of selling it or not.
When Should You Rent Your Home?
If you are looking to make some extra monthly income, renting your home is a go-to option. But you also need to ensure that after incurring the additional expenses and taxes, you are still making a profit.
Here are a few factors that may support your decision to rent your home.
You Are Temporarily Moving
If you are moving to a new home temporarily, you may later require to return to the place where you are currently residing.
The reason could be anything, a temporary job shift, or temporary shifting to a location for some specific purpose. Renting your home in such a scenario will give you relief. You'll have a home to live in when you return.
Not only this but renting a home could be comparatively hassle-free and cheaper. It is easier than finding a new home when you return.
You Want To Invest The Rental Income
As renting your home will give you a regular income. If you are looking for some extra earnings by investing this income, renting could be better for you than selling your home.
You could try various methods of investing. It can be rental income such as fixed deposits for reaping interest, government schemes, and so on.
Alternatively, you could also use the rental income to pay the EMIs of your new home if you have purchased it on loan.
Your Cost Of Renting Is Low
You can gain money in both renting and selling. However, renting and selling both have some costs involved.
What majorly determines your decision of whether to rent or sell your home is the profit that you gain after incurring all these costs.
The costs of renting may include home repairs and maintenance, insurance, taxes, the cost of vacancies, and so on. If these costs are low for you and if you are able to make enough profits, then renting your home could be a good choice for you.
When Should You Sell Your Home?
If the above-mentioned factors are in your favor you should go for renting. If not, then below are some factors that will help you make more sense in selling your home.
You Need Cash To Pay For Buying A New Home
If you are moving to a new home and you require liquid cash for purchasing it, you could sell your current home and utilize the proceeds from the sale for buying your new home.
Also, you are not required to opt for any mortgage loan and undergo the long approval process if the equity of your current home is enough to buy a new home. As a result, it will help you to pay your new down payment.
In case, your current home is the only one you could rely on to pay for purchasing the new home. So, there is no point in thinking about renting your home.
You Aren't Ready To Become A Landlord
Renting your home can help you generate a passive income, but becoming a landlord comes with a lot of responsibilities. You also need to be prepared to take the additional expenses such as home maintenance, repairs, taxes, and so on.
You are also responsible to find "good" tenants and take up the cost of vacancies if any.
You may also reach out to some property management company to look after all these things. But they would charge you a percentage of your rental income. This will cause a reduction in your profits.
If you aren't ready to take up all these responsibilities and costs as a landlord, deciding to sell your home may sound good to you.
You Are Existing In A Seller's Market
If you are in a seller's market, where the number of buyers is more than the homes available for selling, then you should think about selling your home.
As the buyers in such a market have a limited number of options to select from. You can manage to get more attention to get your property sold.
You may also get an opportunity to increase the value of your property. You can also get genuine buyers that will pay the value that you desire.
If you think you will be able to incur the associated selling costs yet make enough profit by selling your property in such a market than the rental income that you could get, selling your home more would make more sense.
Final Thoughts
Deciding whether to rent or sell your home, requires you to analyze certain important factors as mentioned above such as costs, profits, responsibilities, market conditions, and so on.
It is also important for you to understand your goals and consider your financial situation and lifestyle choices while deciding whether to rent or sell your home.
In addition to conducting thorough research, you can also seek the opinion of a professional real estate agent or company. They may help you to make the most appropriate decision by providing you with information about the current real estate market conditions, the value of your home, or the rent charged in your area.
Get in touch for a more expert opinion!
Having a real estate broker by your side is exceedingly indispensable when trying to sell your home. You need several networks and the real estate market know-how to crack a good deal. You have to search for the Flat Fee Real Estate Broker.
However, it isn't so favorable to pay hefty commissions to these real estate brokers to get your job done. Especially if the commission rates are too high.
Here's where having a flat fee real estate broker can be your go-to strategy to sell your home. But how far is selling your home through a flat fee real estate broker beneficial for you?
Let's try digging more into this.
How Does the Flat Fee Model of Real Estate Brokers Work?
When a real estate broker charges a fixed fee rather than a percentage of the sale, it's a flat fee.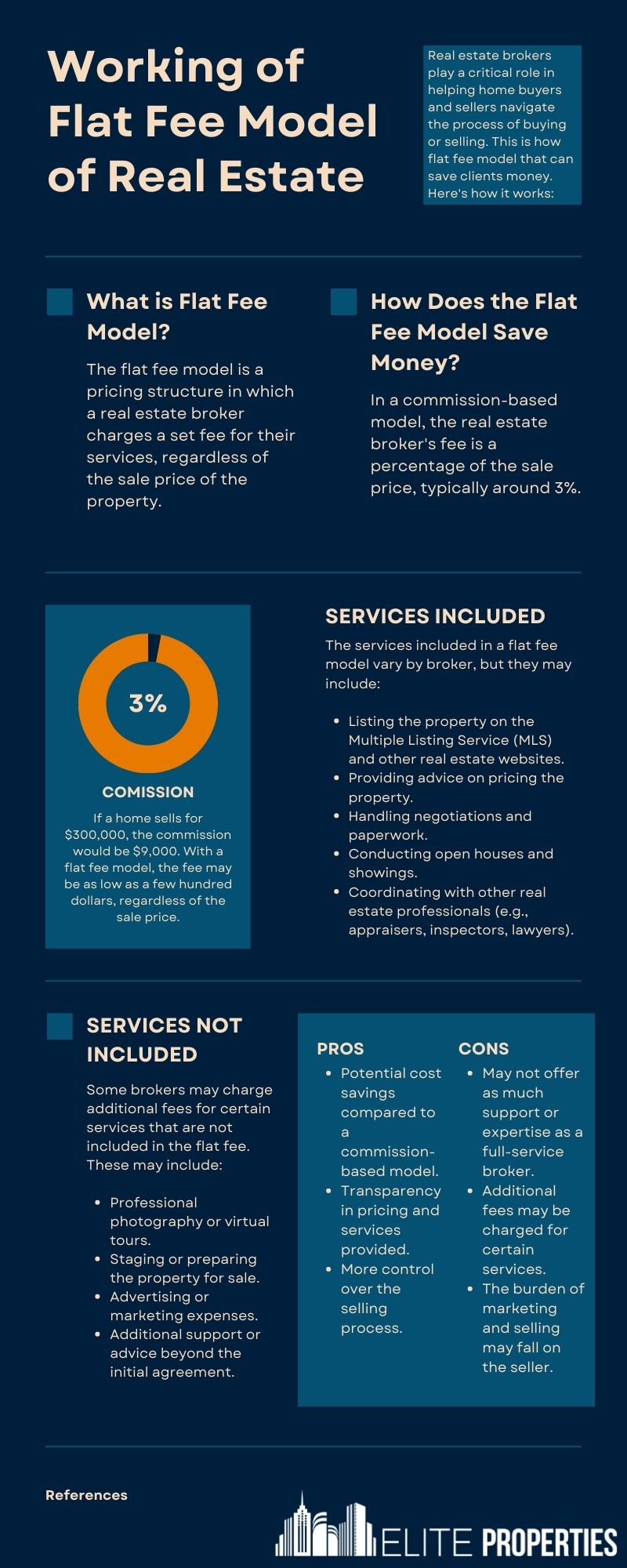 For instance, in a commission-based transaction, you may pay 5% as a commission on a sale amount of $200,000 to the broker. However, in a flat-fee transaction, you will pay a fixed amount for the above sale, which could be $3,500.
So basically, if you pay the broker a commission of 5% on the sale of $200,000 you would pay $10,000.
While, if you are paying a flat fee, you may pay the same amount which is $3,500 no matter if the house sells for $100,000 or $1,000,000.
Pros Of Using a Flat Fee Real Estate Broker
You can win a great deal for your home using a flat fee broker. Below are some pros of flat fee real estate brokers that you must consider.
1. Getting More Control:
At times having more control over the selling process can be advantageous for you. As a result, you could have the ability to make several decisions following your preferences and convenience.
By using a flat fee broker, you may get control over many important selling aspects such as deciding the home price, handling negotiations, or selecting options to market it.
You may also get control to decide if you want to have an open house and not be at the mercy of the broker's schedule.
Not only this but with some flat fee brokers you may also get the authority to decide if you want to sell the home with the full support of an agent or with a limited one.
2. Saving More Money
As the flat fee charged by the broker does not depend upon the selling price, it can potentially be less and you may end up saving more money. In other words, you may save more of the proceeds from your final sale amount after paying a fixed fee.
In the above example, whether your sale amount is $100,000 or $1,000,000, you shall pay a fixed flat fee that is $3,500. If your sale amount is greater, you may save more under the flat fee model.
It is also observed that usually flat fees are lower than commissions. Hence, you may save money. However, it also depends on the terms that you agree upon with your broker.
3. Proper Budgeting:
Flat fees are mentioned in the listing agreement and usually do not vary as per the final sale amount of your home.
Hence, as a seller, this helps you to do proper budgeting to make things fall in place properly.
It's especially helpful when your budget is tight. You know what fee exactly you will pay the broker and plan accordingly on your net proceeds.
If you are a seller who is tight on budget and prefers knowing promptly what you will have to pay the broker before your sale to avoid any kind of uncertainty, you should go for a flat fee real estate broker.
Cons Of Using a Flat Fee Real Estate Broker
Even if you may potentially pay less using a flat fee model, it has drawbacks too. Here's what you need to consider.
1. Getting Limited Services:
Getting more while paying less is something very rare, as you usually get what you have paid for.
A flat fee broker may not provide all the services that he/she would have while working on a commission-based model.
You may get very limited services. The broker may also list your home only on the local MLS which is just not enough to get a good deal.
However, it is not bad to get a few services for paying less, but it still depends on your selling goals and the current situation that you might be in.
2. Earning Less Profit:
You may sacrifice your profit if you choose to use a flat fee real estate broker.
This is so because flat fee real estate brokers have less motivation (no incentive) to negotiate and get you the best deal with top dollar for your home.
Flat fee brokers usually consider volume to make it big and hence, they may not dedicate much time and effort to negotiating to increase your profit.
3. Paying for Additional Expenses:
You can save more money by paying a flat fee and not high commissions, but you may also have to incur some additional expenses.
You may require to spend on marketing, pricing, and other closing activities, which otherwise a commission-based agent would have done.
Your flat fee agreement may include only listing your home on MLS. For attracting more buyers, you are required to incur additional expenses. Hence, it is recommended to consider these expenses before you go for flat fee brokers.
Bottom Line
A flat fee model can help save money, but on the other hand, you also need to be ready to handle other activities associated with selling on your own.
So, depending on your goals you could thoroughly analyze both the pros and cons and decide as per your situation and objectives whether to go for a flat fee real estate broker or not.
For expert opinion contact Elite Properties today!